Skip to Main Content
It looks like you're using Internet Explorer 11 or older. This website works best with modern browsers such as the latest versions of Chrome, Firefox, Safari, and Edge. If you continue with this browser, you may see unexpected results.
Books in our Library on Australian Government
What Does it Mean to Be ... (series)

by

Call Number: 994.0099 PEA

Four books:
The Prime Minister of Australia
A Citizen of Australia
A Member of the Australian Parliament
The Governor-General of Australia

So You Want to be Prime Minister?

by

Call Number: 352.23 BRA

How Government Works (series)

by

Call Number: 320.994 BAR

Four books:
Workings of Government
Elections
Parliament
Who's Who in Politics

Federal, State and Local Government

by

Call Number: 320.494 STE

Civics Australia (series)

by

Call Number: 320.494 MEE

Six books:
Australian Governance
Citizenship
Federal, state and Local Government
Political Parties
Voting and Elections
World Governance

Understanding Australia's Government (series)

by

Call Number: 320.80994 BRU

3 books: Federal Government; State and Territory Government; Local Government

What is an Australian Citizen?

by

Call Number: 323.6 BUL

Democracy

by

Call Number: 321.8 WOO
How Parliament Makes Laws
Structure of the Australian Government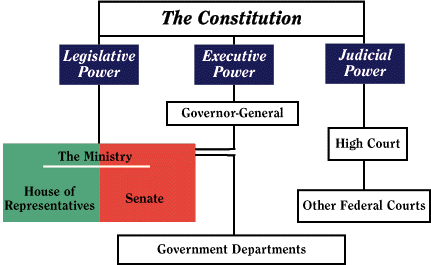 Westminster System
Australia's political system is based on the Westminster system. Westminster is the name given to the system of parliamentary democracy used in countries such as Britain, Canada, Australia and New Zealand and is named after the area in central London where the Parliament of the United Kingdom is located. All state and territory parliaments in Australia follow the Westminster system.
The essential features of the system are:
An executive government is determined by a democratically elected lower house.
The head of government is the Prime Minister, who leads a cabinet which is responsible to the lower house.
An opposition exists, led by the leader of the party or parties with the second largest number of seats in the lower house.
The presence of a constitutional monarch who is "above politics" and acts on the advice of the Prime Minister.
There is a career public service which impartially serves the government of the day.
The armed services are outside of politics and act on the instructions of the government.
The rule of law prevails, with an independent judiciary, subject to the Constitution.
There are three recognised branches of government in the Westminster system: the legislature; the executive; and the judiciary.
from http://www.parliament.act.gov.au/learn-about-the-assembly/fact-sheets/westminster-system
For Teachers
Australian Democracy (Upper Primary Society and Environment)

by

Call Number: 323.0994 ETH

ISBN: 9781921349010

The Australian Civics and Citizenship Teacher's Handbook

by

Call Number: 323.0994 GRE

Year 6: Civics and Citizenship

by

ISBN: 9781863978996

I am Australian: Exploring Australian Citizenship: Upper Primary Unit - Teacher's Resource Manual

I am Australian: Exploring Australian Citizenship - Lower Secondary Unit

Call Number: 323.60994 AUS

Discovering Democracy

Call Number: 320.994 DIS

ISBN: 9781863664363

Politics in Australia

Call Number: 320.994 CAT

SOSE Civics for Queensland

by

Call Number: 320.4 KEN

ISBN: 9780701634612
DVD
Explore Your Parliament - 328 QLD